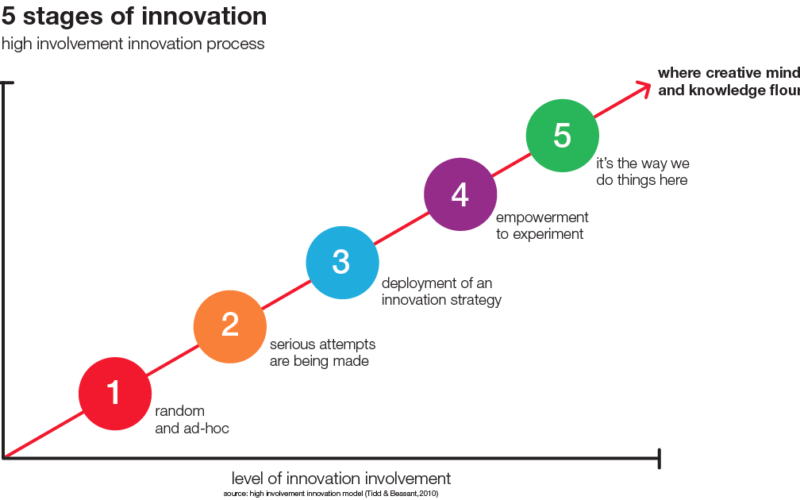 Financial markets have high expectation when it comes to an organisation's growth, placing significant pressure on innovation activity, often with overwhelming expectations that supporting investments in innovation will lead to financial success and market leading impact.
Yet according to the eminent Harvard Business School Professor Clayton Christensen a world-renowned expert in innovation, "roughly one company in 10 is able to sustain growth that translates into above-average returns over more than a few years" this appears to correlate to further evidence which suggests that once a firm's core business reaches maturity new growth drivers require significant additional risk. Nevertheless, these same organisations continue to strive for growth in the vicinity of 4 to 6%.
Accordingly it is imperative for leadership to understand their 'starting position' and determine the extent to which they are committed to the innovation process. At Mind Fusion, we use the Tidd and Bessant – High-Involvement Innovation model to demonstrate and measure where an organisation fits prior to embarking on such high levels of investment.
Recent research suggests the greatest leadership gaps in the innovation process is the ability to recognize:
What is our direction?
What are we not going to do?
What is known?
What is not known?
What supporting culture are we building?
The answer to these five basic and simple questions paradoxically is more complex yet provides the appropriate and necessary insights into an effective leadership decision-making process.
Hence the challenge for leadership inclusive of boards is:
Are we making the best judgments and decisions when approving innovation-related business cases? What returns are we currently achieving? Why?
Are we asking the right questions?
How important is it for leadership to understand the technicalities associated with innovation when making responsible decisions?
If the leadership team has the final decision-making rights associated with investment in support of innovation activity; then what is the current success rate?
The necessity of innovation defined; as the generation of novel new ideas that deliver value becomes the essential ingredient required to solve this dilemma. But how?
At Mind Fusion, our role is to facilitate leadership teams and individuals through high-performance coaching and mentoring as a catalyst in the pursuit of innovation effectiveness.
Our coaching expertise is available to assist your business to differentiate and drive profitable growth.